Perfectly Patriotic 4th of July Tablescape Ideas
As Independence Day approaches, it's time to start planning your festive holiday celebrations, including setting an easy patriotic table for your party guests. So pull out your red, white, and blue table decor and follow along as I share ideas for creating a perfectly patriotic 4th of July tablescape.
There are many creative ways to set a memorable table with a patriotic theme. From using thrift store finds to crafting easy DIY projects, your July 4th gathering will be one your family and friends will remember.
A Fourth of July tablescape is all about combining elements that represent the spirit of the holiday.
Incorporate a patriotic centerpiece with small American flags, white plates, and fresh flowers in red, white, and blue.
Choose table linens that showcase the colors of the American flag, and consider mixing in vintage items to add unique and personal touches to your table decor.
---
As an Amazon affiliate, I earn from qualifying purchases at no extra cost to you. My blog contains other affiliate links as well for your convenience. Click here to read my full disclosure policy.
---
---
Table Linens: Show Your Patriotic Spirit
Be sure not to overlook the importance of table linens when it comes to a patriotic vibe.
Use a tablecloth or runner in a classic red, white, and blue pattern, or use just one of the patriotic colors as I did here with the blue tablecloth.
You can also choose a more subtle approach by using a solid color tablecloth and accenting it with patriotic-themed napkins or placemats.
This quilt will be a perfect tablecloth for our 4th of July celebration next year.
By incorporating the colors of the American flag into your table lines, you'll create a festive backdrop for your table decor.
Stylish and Eco-Friendly Scrap Fabric Napkins
Get crafty with scrap fabrics to create unique and eco-friendly napkins for your patriotic tablescape. Look for fabrics in red, white, and blue patterns or solid colors that complement your theme. Cut the fabric into squares or rectangles and finish the edges with a simple hem or decorative stitching.
These handmade napkins add a personal touch to your table and can be reused for future patriotic gatherings or summer parties.
---
Patriotic Denim Pockets
These denim pockets with red bandana print stars are a perfect choice for holding my napkins and flatware.
I saw a picture somewhere on Pinterest years ago that inspired me and I've been looking for denim pockets like this ever since to use in my 4th of July patriotic tablescape.
One day I finally found these beauties on Etsy. The order included the red bandana stars already sewn on the pockets as well as extra stars to toss around the table and material to use for napkins.
---
Patriotic Place Settings
I opted for plain white dishes for the place setting so the denim napkins would pop. The placemats are a rattan square from Pier 1 back in the day when they had retail stores. Next year, I'll use a navy blue or red placemat or a galvanized charger.
Mixing and matching your place settings, using thrift store finds, is a fun idea when creating your patriotic 4th of July table. Look for dishes with a red, white, or blue color scheme to create a cohesive and patriotic tablescape.
By combining different patterns and textures, you'll have an eclectic look that adds personality to your table. Complete each set with a small American flag tucked into the napkin tied around the cutlery for an extra touch of patriotic flair.
---
A Patriotic Centerpiece: The Heart of Your Tablescape
The heart of your tablescape is always the centerpiece and will set the tone for your entire table. There are so many fun ways you can create the perfect centerpiece.
Start with a large plate, tray, or crate like I used, as the foundation piece and build your patriotic centerpiece from there.
---
Small American Flags
Place small American flags strategically throughout your tablescape. Tuck them into floral arrangements, or potted plants, or use them as placeholders.
---
Fresh Flowers in Red, White, or Both
Adding red or white flowers to the centerpiece like geraniums will create a vibrant display. White daisies or other fresh blooms will make beautiful summer floral arrangements.
Use smaller vases or mason jars filled with summer blooms as charming accents placed alongside your centerpiece or individual place setting.
These vibrant flowers will bring life and color to your table, enhancing the overall ambiance of your Independence Day celebration.
---
Add Fun Patriotic Elements to the Mix
Pinwheels are too much fun with their bright colors and ability to entertain anytime there's a breeze.
Straws in patriotic colors and patterns are another fun seasonal decor item for your 4th of July tablescape. We don't even use the straws. I just fill vintage mason jars with them and leave them on the table as a decoration.
---
Red, White, and Fruity: Use Fruit as Table Decor
Another great way to bring the patriotic spirit to your 4th of July celebrations is by adding fruity elements to your tablescape.
Mix in slices of juicy watermelon and succulent strawberries to create a stunning display that plays off of the patriotic colors of the American flag.
Adding blueberries, blackberries, and strawberries to your favorite drink for the patriotic holidays will not only add color to the table but fruity flavor to your summer beverage.
---
Thrift Store Finds: Budget-Friendly Patriotic Accents
Another patriotic tablescape idea is to embrace the charm of vintage items and add classic, timeless touches to your 4th of July table.
I use my vintage red with white Coca-Cola crate every year for the fourth of July. Look for vintage glassware, plates, or vases that align with your patriotic color scheme.
Antique lanterns, old-fashioned milk jugs, or vintage Americana-inspired signage will definitely give your family and friend something to talk about.
These one-of-a-kind vintage decor pieces add charm and character to your tablescape without going over your budget.
---
Designing a perfectly patriotic tablescape for your 4th of July celebration can be fun! By incorporating great ideas and creative elements such as a patriotic centerpiece, mix-and-match place settings, themed table linens, and dun accents like small flags, you can create a table that captures the spirit of the holiday.
Bring fresh summer flowers and thrift store patriotic decor to the table for personality and seasonal flair. With these tips and ideas, your Fourth of July gathering will be a memorable and patriotic event for all to enjoy.
If you have any questions or want to send a message, I'd love to hear from you. Leave a comment below. And be sure to share this blog post link with anyone who may find these patriotic tablescape tips useful.
Until next time,
Happy 4th of July!
---
---
---
Patriotic Tablescape Blog Hop
For more inspiration for your patriotic tablescape, make sure you see the inspiring tables my friends have created.
You'll get an inspiring tour from coast to coast, visiting homes in Maine, New Jersey, North Carolina, Wisconsin, and of course, here in Washington State.
Rachel | At the Ponds Farmhouse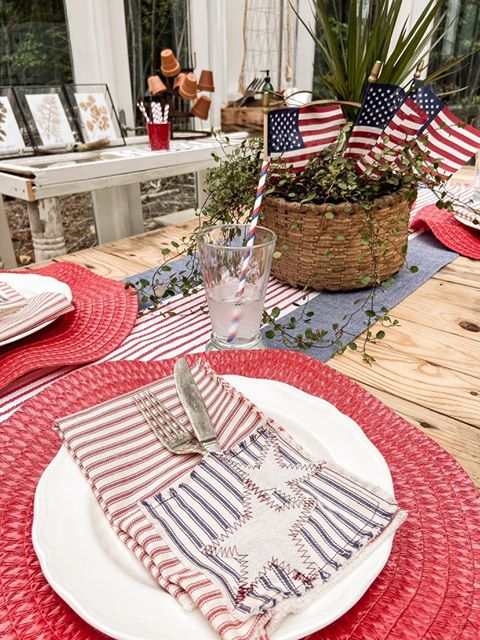 Stacy | Bricks n' Bloom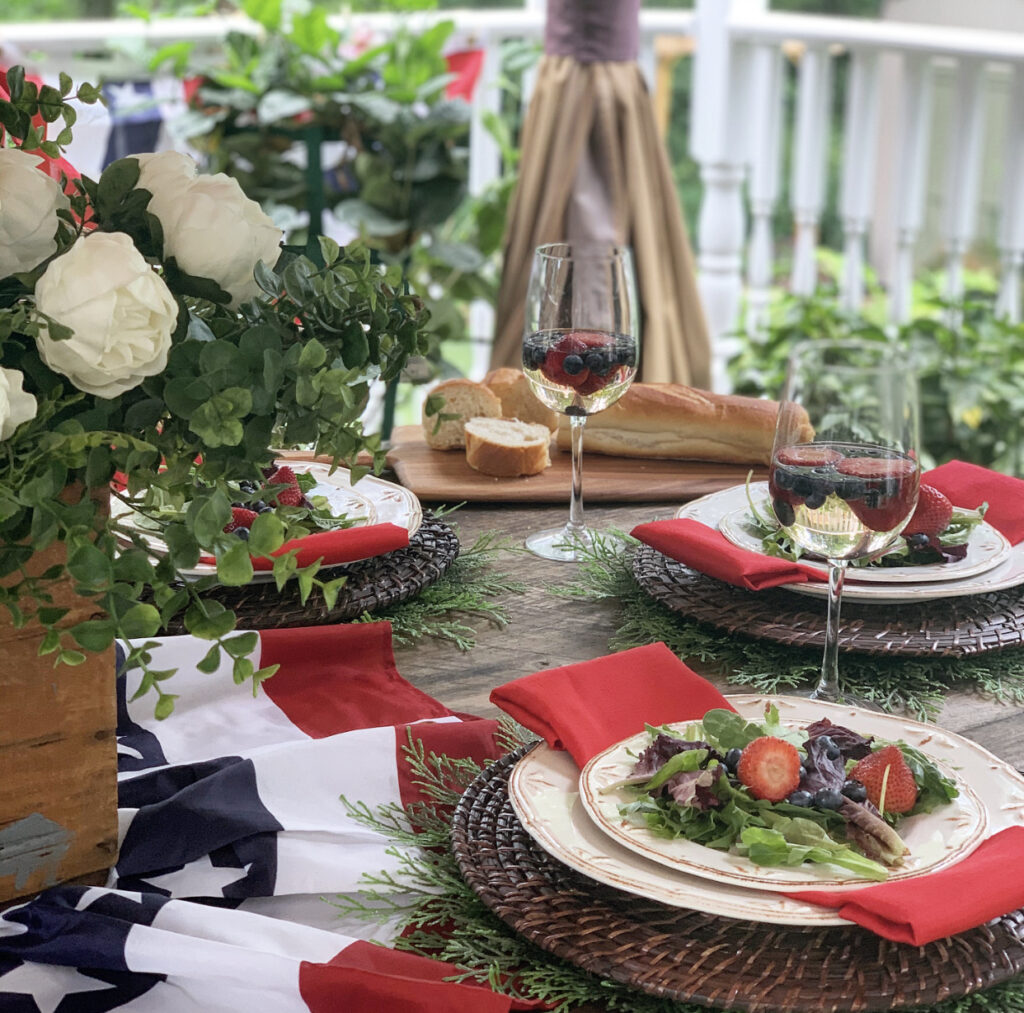 Ann | Dabbling & Decorating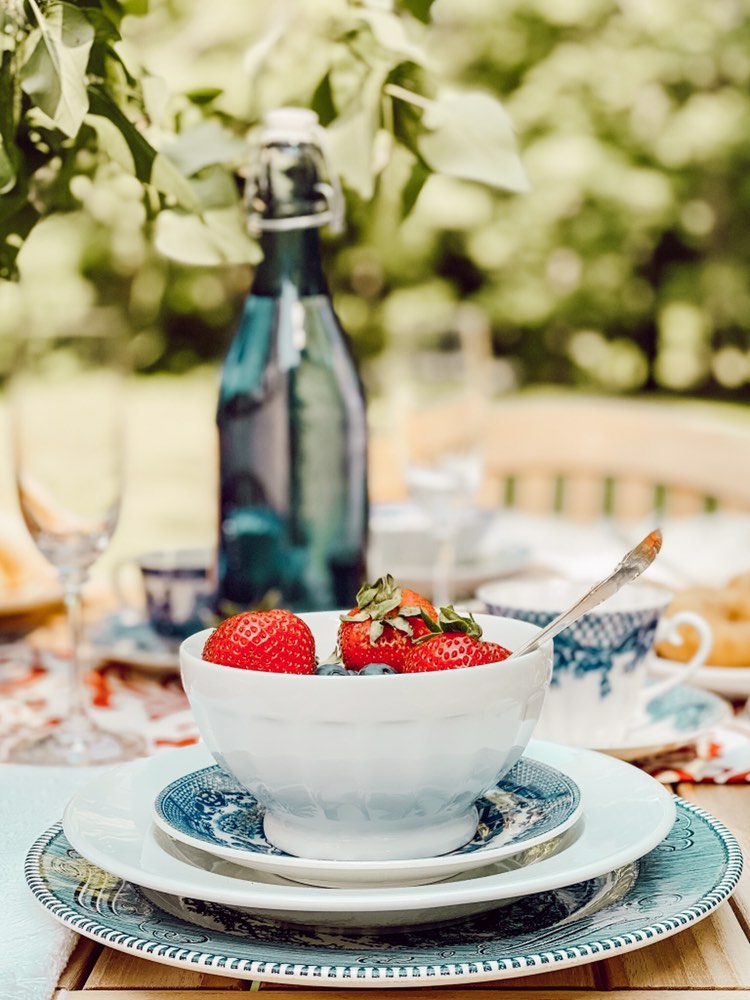 Kristin | White Arrows Home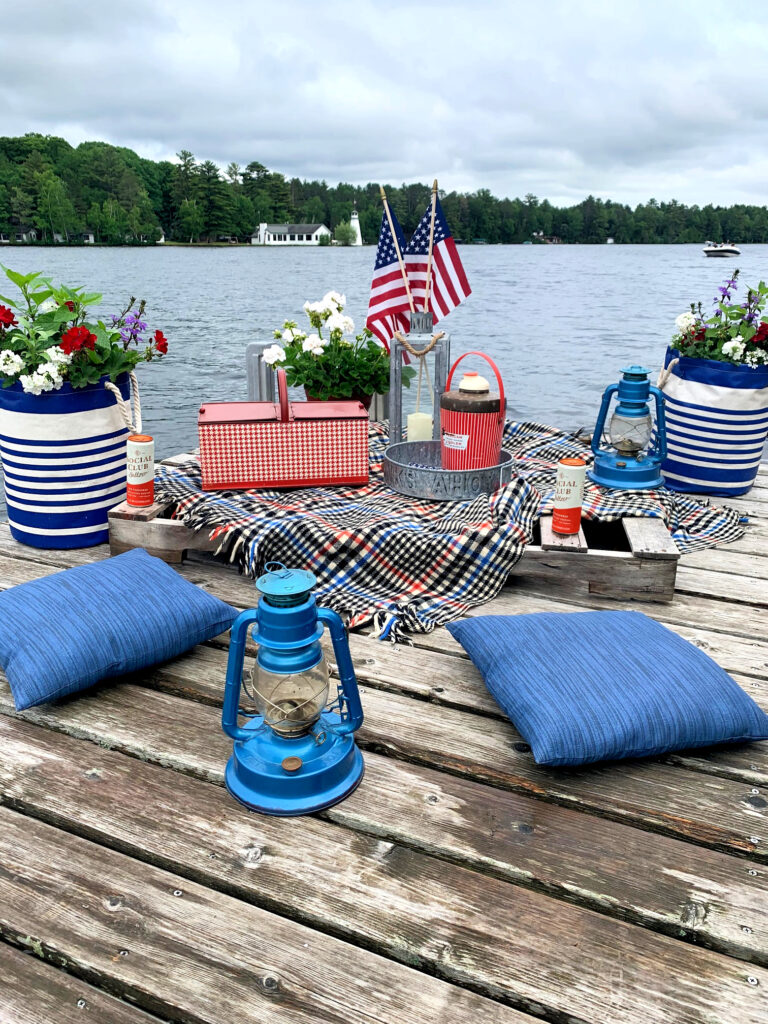 ---
Other Posts You May Enjoy…
---