Summer is here, and it's time to pull out your red, white and blue table decor! Whether it's Memorial Day or 4th of July, it's always fun to set a festive table when entertaining your guests. Here's how I created a perfectly patriotic tablescape this year.
Some of my posts contain affiliate links for your convenience. Read my full disclosure here.
Today I'm joining a group of talented friends for a Patriotic Tablescape Blog Hop, hosted by Kristin at White Arrows Home. Be sure to link to their inspiring tables at the end of this post.
There has been a 4th of July parade that comes down the street, in front of our house,as long as we have lived here. Sadly, the event has been canceled this year due to social distancing requirements, but we still have to eat!
Use Food to Add Some Life to Your Table
Watermelon and strawberries are perfect for a patriotic table. When adding food to your table, it's always a great way to brighten it up.
By adding blueberries, blackberries and strawberries to the glasses, I not only brought more color to the table, but added flavor to the water as well.
Denim Pockets as Napkin and Silverware Holders
I've been wanting to find denim pockets like this for years, but never took the time to find them. I finally found some on Etsy. The order included the red bandana stars already sewn on the pockets, but also incuded extra stars and material!
If only I could sew, I could make all kinds of amazing things for my tablescapes. Maybe it's not too late to learn.
Add a Backdrop
Here are a few more fun things I brought out to the deck for a perfectly patriotic feel. I can't even remember where I found this quilt that I've had for years. I went on quite the Etsy shopping spree, and found the flag banner there.
The Centerpiece
This Coca Cola wooden crate was bought specifically for Memorial Day and 4th of July. I absolutely love the look, but have very little red in my decor. The centerpiece was lacking the color white, so I added these geraniums.
Pinwheels and American flags were the perfect touch for this patriotic table.
I thought this straws would be fun on the table, so I displayed them in a couple of Mason jars to add some pops of color.
I hope you enjoyed my perfectly patriotic tablescape. It was so fun creating it this year.
---
If you've enjoyed this blog post, please pin and share it on Pinterest.
---
Patriotic Table Blog Hop
I'm excited to be sharing Patriotic Tablescapes with some of my blogging friends today. You'll get an inspiring tour from coast to coast, visiting homes in Maine, New Jersey, North Carolina, Wisconsin and of course, here in Washington State.
Rachel | At the Ponds Farmhouse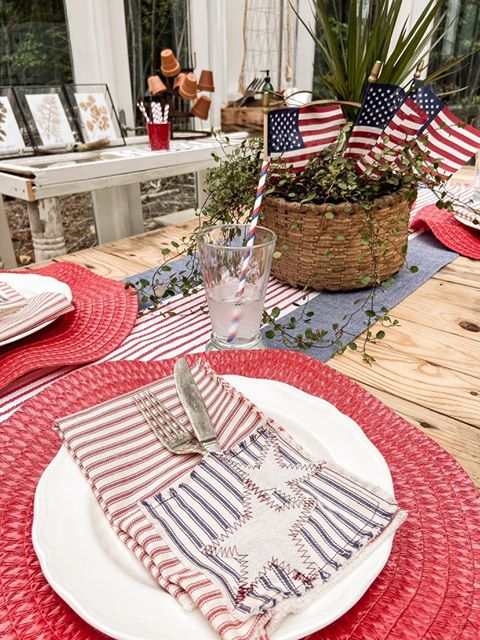 Stacy | Bricks n' Bloom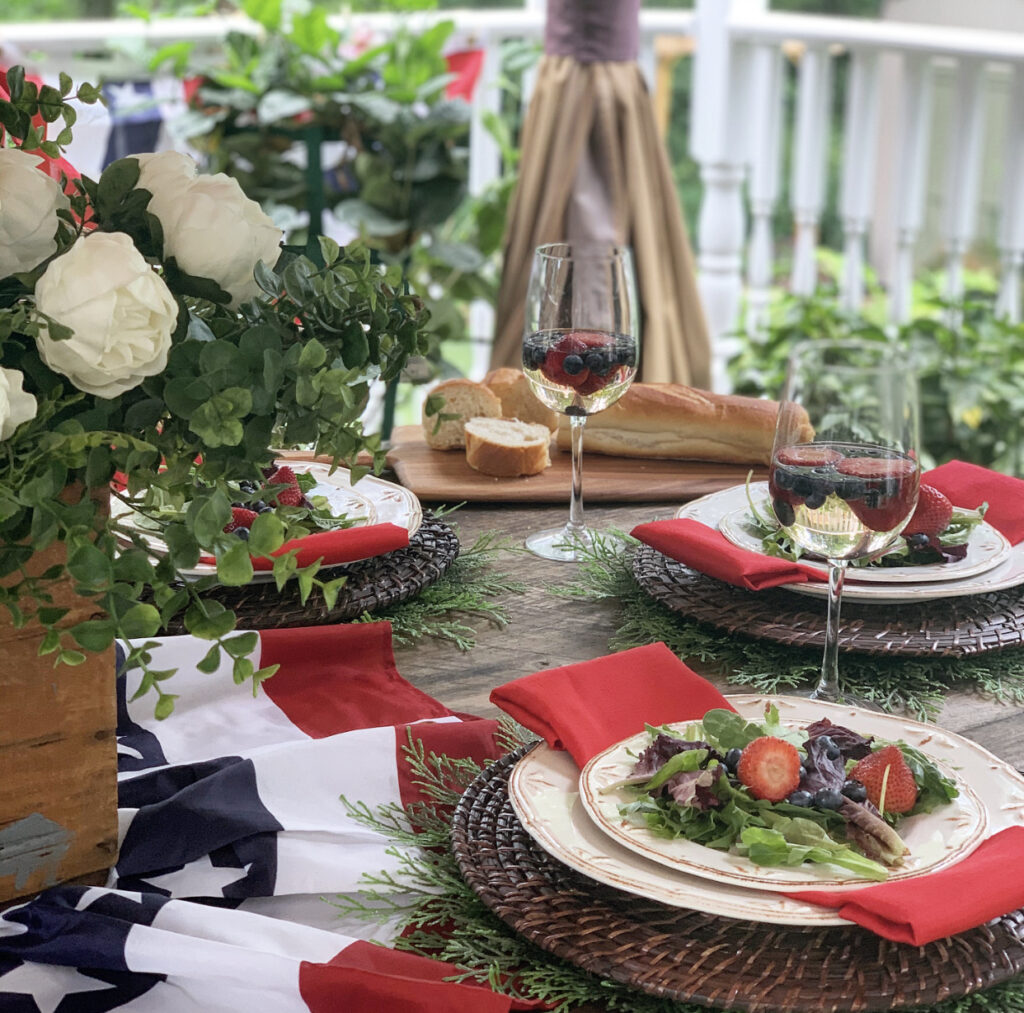 Ann | Dabbling & Decorating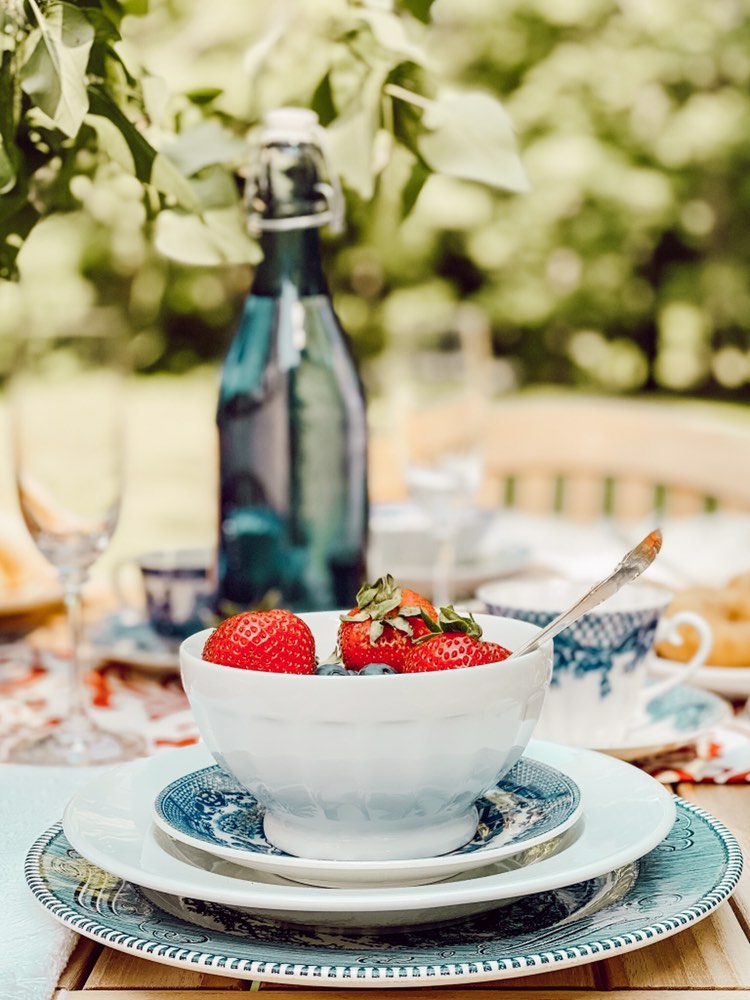 Kristin | White Arrows Home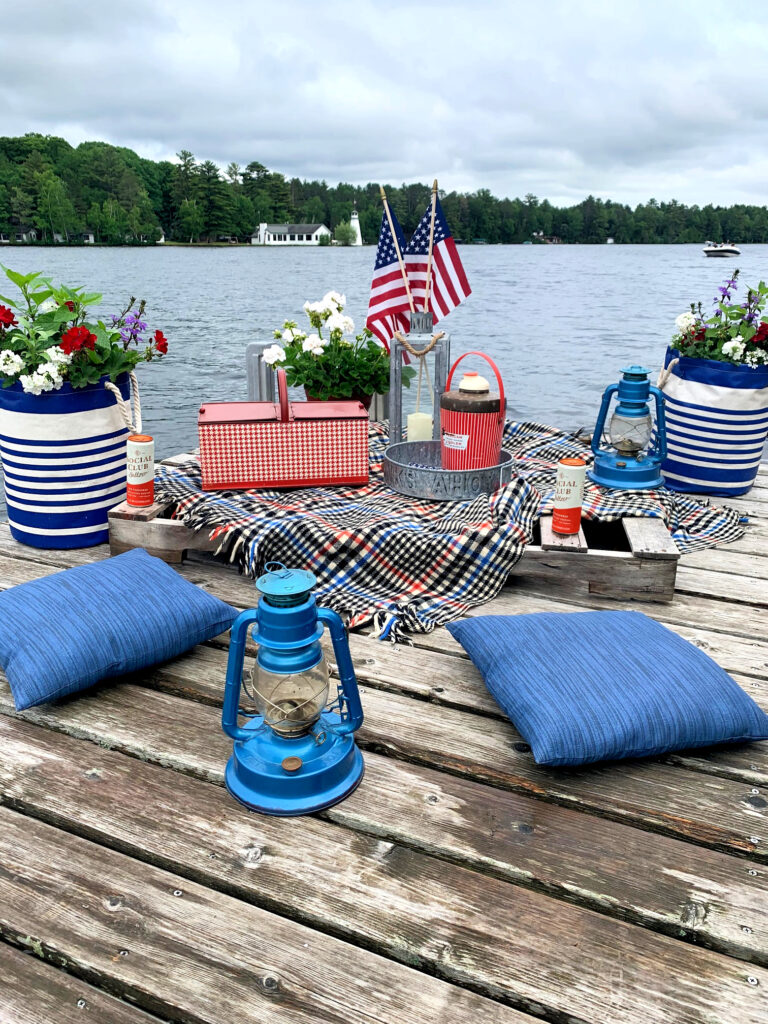 ---
Other Posts You May Enjoy…
---
This Post Has Been Shared With…
---